Scientists have been studying fish oil as the best source for omega 3 fatty acids. Fish oil has been the subject of studies revolving around brain chemistry -- and is shown as a leading preventative medicine for everything from depression and bi-polar disease to Altzheimer's -- memory loss to blood clots.
The American Heart Association recommends eating fish 2-3 times a week for all the great health benefits and low-fat source of protein. Tuna is one of the best sources of this oil.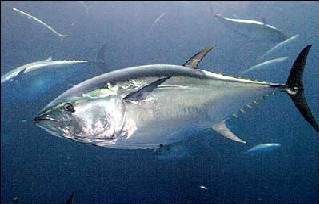 On another site, I found a handy mercury calculator. It takes your weight and the weight of the fish you think you will be eating in the near future, and calculates the percentage of mercury on the scale of recommended weekly allowance. The mercury in tuna is concentrated because it's concentrated in the fish they eat.

http://www.gotmercury.org/

Ahi Tuna is my favorite. I was conservative and said I would be eating an 8 ounce steak this week. That would constitute 290 percent of my recommended weekly allowance of mercury. When I was in Hawaii several years ago I ate Ahi tuna every day. It was fresh and perfect -- sometimes I ate it twice a day. Again being conservative I thought I would see what kind of percentage I ingested in my week long stay there if I had one 8 oz. piece of fish five days in a row. One thousand four-hundred seventy.


The worst number -- I plugged in what a half can of canned albacore tuna means to my daughter. One hundred and seventy percent of her weekly mercury intake.

Remember as kids we used to drop a mercury thermometer and every body would freak out because what would be done with that one little drop of mercury? No one would eat it, of course -- wasn't the deal that it would burn your skin off?

Let's remember now, mercury is released into the ocean from the drilling, piping and refining of oil. It takes one perversion of natural resource to make another.